The human body is a marvel of engineering, and the knee joint is no exception. It's composed of several components that work together to provide stability and movement. One of these components is cartilage, which plays an important role in maintaining the health and mobility of the knee joint.
In this article, we will explore what cartilage does for our knees, as well as how it can be damaged or compromised over time. Well also look at ways to protect your knee cartilage so you can keep your joints healthy for years to come!
Anatomy of Knee Cartilage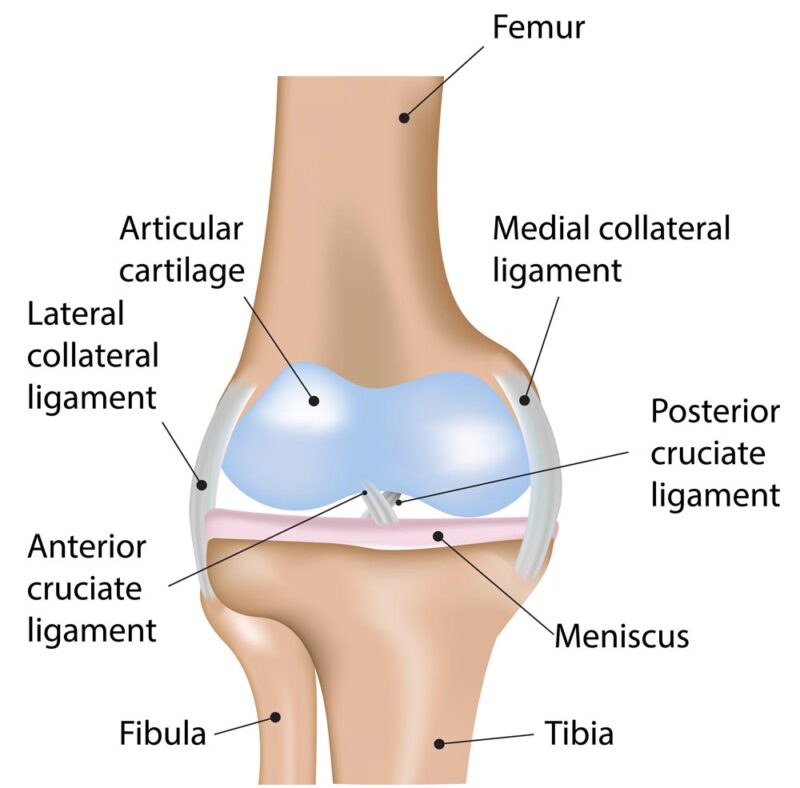 Knee cartilage plays an important role in joint health as it helps reduce friction between the bones that move with each other. The anatomy of knee cartilage consists of a thick layer of tissue, known as articular cartilage, located at the end of the femur and tibia bones which allows for smooth motion.
This type of cartilage is made up of collagen fibers that are arranged in a lattice-like structure to provide cushioning and stability during movement. Additionally, underneath this layer lies subchondral bone, a hard yet flexible material that absorbs shock from impact on the joint – such as running or jumping – while simultaneously providing support and protection to the underlying structures below it.
Finally, menisci are two C-shaped pieces of fibrocartilaginous tissue located between the femur and tibia bones which help disperse force across both surfaces evenly while also allowing them to glide smoothly over one another when flexed or extended. All these components together make up the complex anatomy of knee cartilage – essential for healthy joints!
Common Causes of Damage to Knee Cartilage
Knee cartilage plays an essential role in joint health, yet it can be easily damaged due to a variety of factors. Common causes of damage include excessive strain from physical activities like running and jumping, trauma such as falling or twisting the knee, complications from medical procedures involving the knee joint, and age-related degeneration.
In addition, people who are overweight or obese may experience more wear and tear on their knees than those at a healthy weight because the greater load puts extra stress on the joints. Finally, autoimmune diseases like rheumatoid arthritis can cause inflammation that wears away at cartilage over time.
Prevention Strategies
When it comes to preventing knee cartilage damage and ensuring joint health, several strategies can be implemented. First and foremost is maintaining a healthy body weight. Excess weight places greater pressure on the joints, leading to increased wear and tear of the cartilage which can result in pain, swelling, and other complications over time.
Exercise is also important for keeping joints flexible and strong; low-impact activities like swimming or yoga are great options as they put less strain on the knees than running or jumping sports. Additionally, using assistive devices like knee braces when engaging in more strenuous physical activity may help reduce stress on your knees while still allowing you to stay active.
Finally, practicing good nutrition by consuming plenty of fruits, vegetables, and lean proteins will keep your body well-nourished so that it can better cope with any issues related to the weakened cartilage tissue in the knees.
Diagnosis and Treatment Options for Damaged or Degraded Knee Cartilage
The diagnosis and treatment of damaged or degraded knee cartilage is an important part of joint health. A doctor may use a physical examination, imaging tests, and lab tests to diagnose damage or degradation in the knee cartilage.
Common symptoms include pain when bending the knee, decreased range of motion, swelling in the affected area, weakness in the leg muscles around the affected area, and difficulty standing up after sitting for long periods.
Imaging tests such as X-rays and magnetic resonance imaging (MRI) scans can also be used to detect changes in the structure or composition of cartilage tissue.
Treatment options for damaged or degraded knee cartilage depend on severity; minor cases may be treated with rest and anti-inflammatory medications while more severe cases may require surgery.
Arthroscopy is one common surgical intervention that involves making small incisions into the skin surrounding a joint to repair torn ligaments or remove excess fluid from within a joint space.
Other surgeries such as osteotomy are more extensive procedures that involve cutting out portions of bone near joints to correct alignment issues related to cartilage damage/degradation. In some cases, total knee replacement surgery may also be necessary if other treatments prove ineffective at restoring the full function of a patient's joint(s).
Conclusion
Knee cartilage plays an important role in joint health, and its loss can lead to pain and decreased mobility. The best way to protect knee cartilage is through regular exercise, as it strengthens the muscles around the joint and helps maintain proper alignment.
If a person does experience a significant loss of knee cartilage, there are treatments available such as cortisone injections that may help reduce inflammation and improve range of motion. It's also important for people with weakened or lost knee cartilage to be aware of their limitations so they don't put themselves at risk for further injury.
Ultimately, taking care of your knees by maintaining a healthy lifestyle is key to protecting your joints from damage now and into the future.